Plastic Desiccant Dehumidifier
Product Detail
Product Tags
Raw Material
PET Pellets (Made by Recycled flake)
Using Machine
LDHW-600*1000
Crystallized Temperature set
200℃
Crystallized time set
20mins
Final material
Crystallized PET Pellets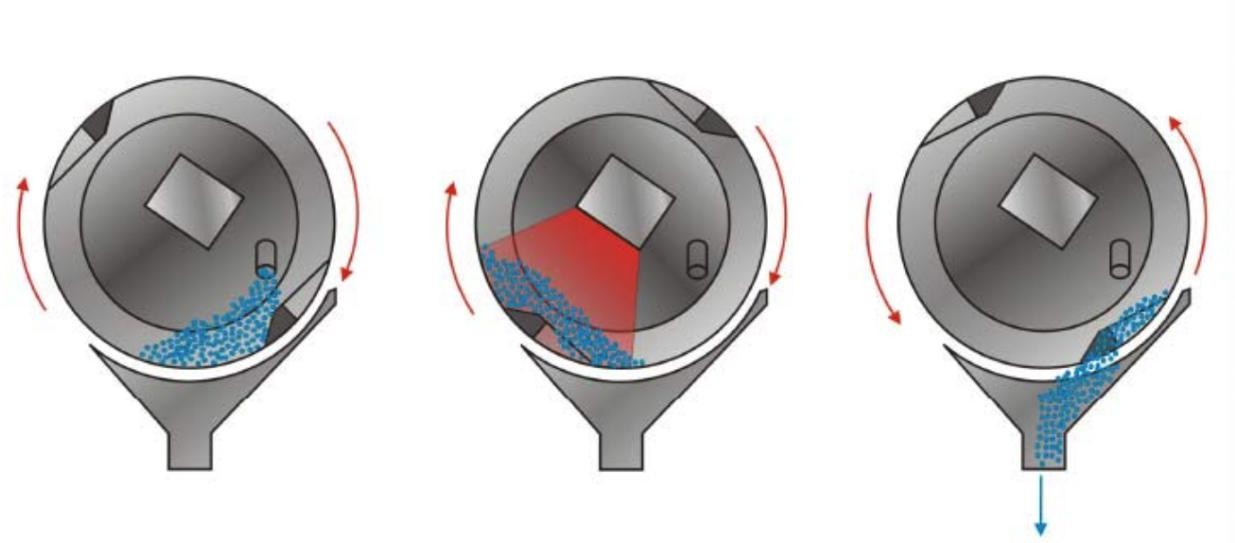 >>At first step, the only target is to heat up the material to a preset temperature.
Adopt relatively slow speed of drum rotating, the Infrared lamps power of the dryer will be at a higher level, then the PET pellets will have a fast heating till the temperature rises to the preset temperature.
>>Drying &Crystallizing step
Once the material gets to the temperature, the speed of the drum will be increased to a much higher rotating speed to avoid the clumping of the material. At the same time, the infrared lamps power will be increased again to finish the drying. Then the drum rotating speed will be slowed down again. Normally the drying process will be finished after 15-20mins. (The exact time depends on the property of material)
>>After finishing the drying processing, the IR Drum will automatically discharge the material and refill the drum for the next cycle.
The automatic refilling as well as all relevant parameters for the different temperature ramps is fully integrated in the state-of-the-art Touch Screen control. Once parameters and temperature profiles are found for a specific material, theses settings can be saved as recipes in the control system.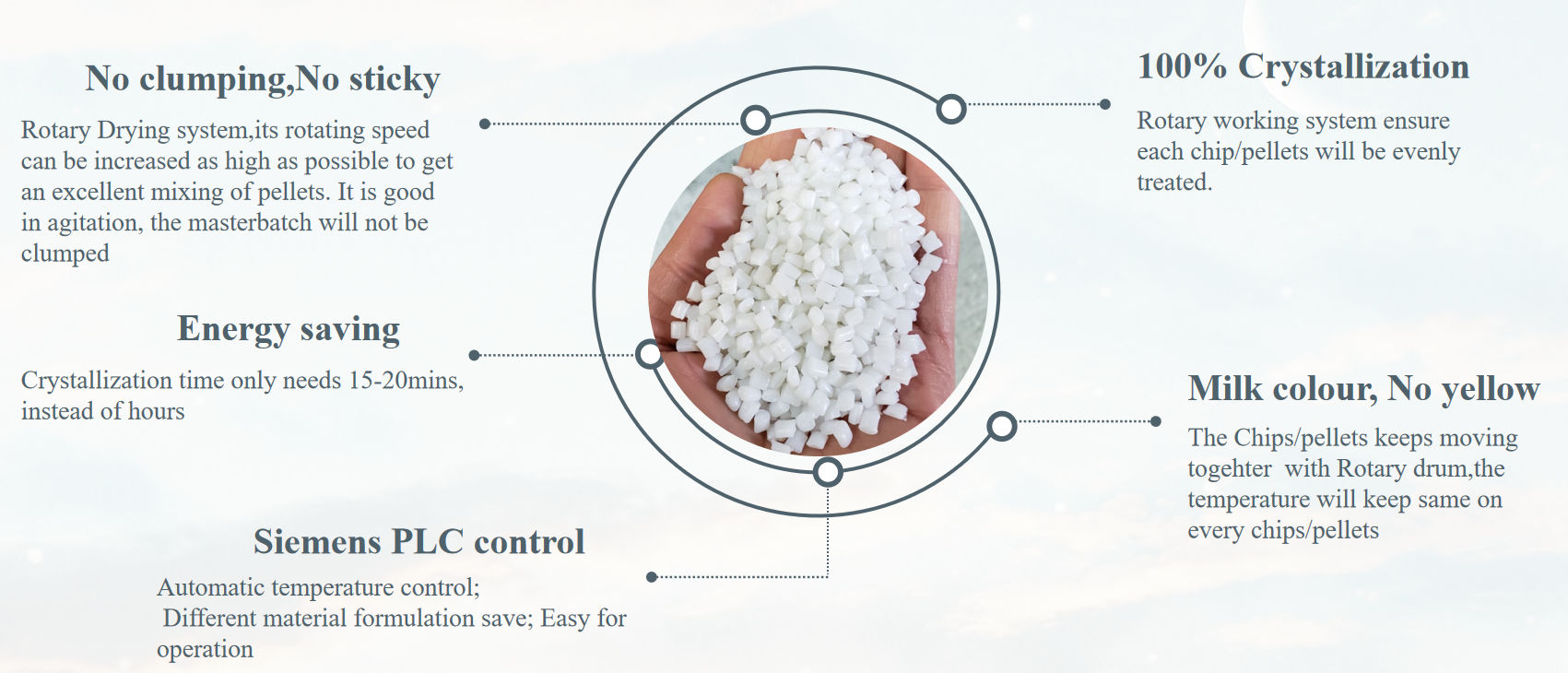 Up to 60% less energy consumption than conventional drying system
No segregation of products with different bulk densities
Independent temperature and drying time set
Easy clean and change material
Instant start-up and quicker shut down
Uniform crystallization
No pellets clumping & stick
Carefully material treatment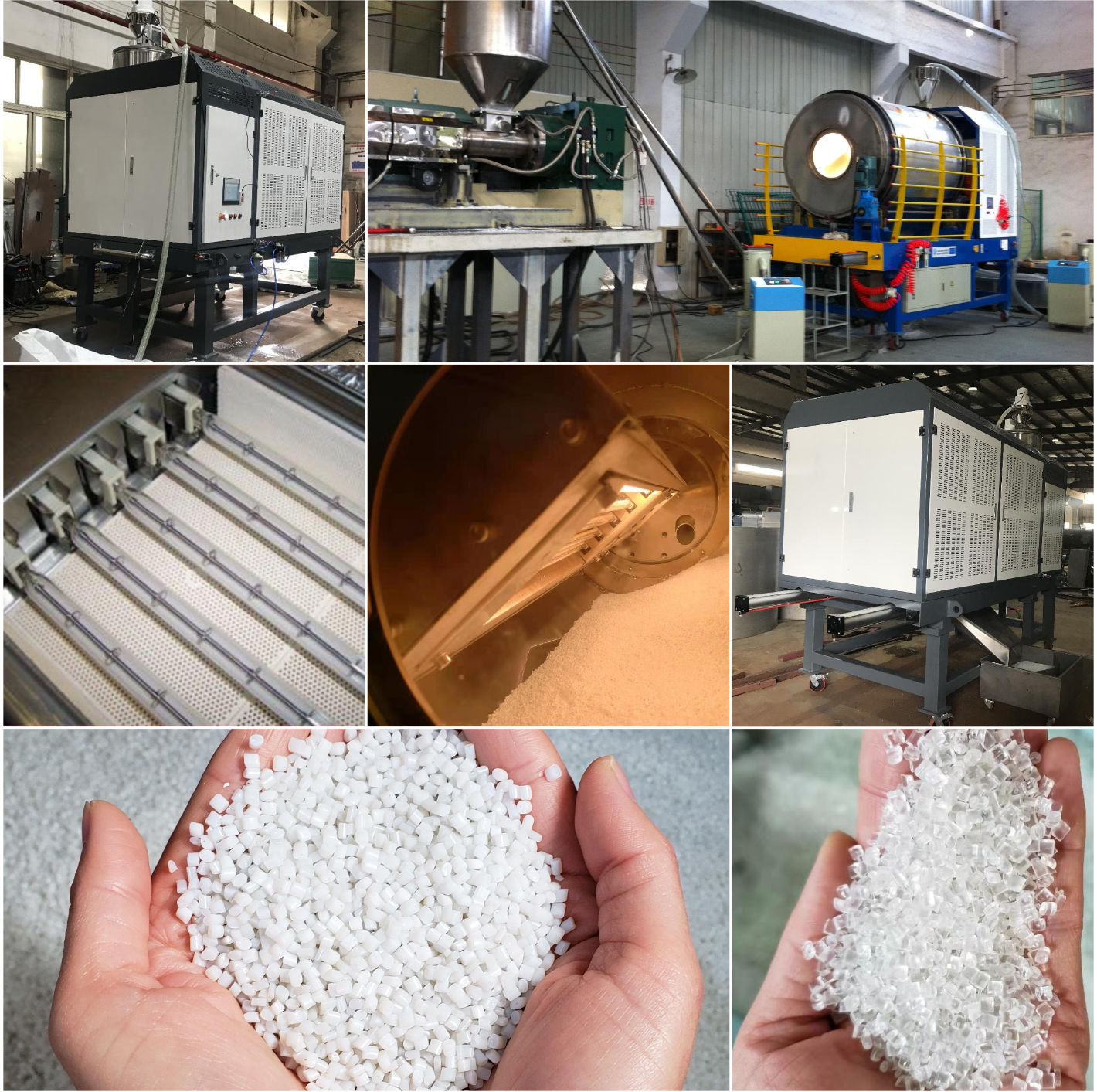 | | |
| --- | --- |
| Heating. | Heating granules and regrind material prior to further processing (e.g. PVC, PE, PP,…) to improve throughput in the extrusion process. |
| Crystallization | Crystallization of PET (Bottle flakes, granules, flakes), PET masterbatch, co-PET, PBT, PEEK, PLA, PPS, etc. |
| Drying | Drying of plastic granules, and ground material (e.g. PET, PBT, ABS/PC, HDPE, LCP, PC, PP, PVB, WPC, TPE, TPU) as well as other free-flowing bulk materials. |
| High-input moisture | Drying processes with high input moisture >1% |
| Diverse | Heating processes for the removal of rest oligomers and volatile components. |
Experienced engineer will make the test. Your employees are cordially invited to participate in our joint trails. Thus you have both the possibility to contribute actively and the opportunity to actually see our products in operation.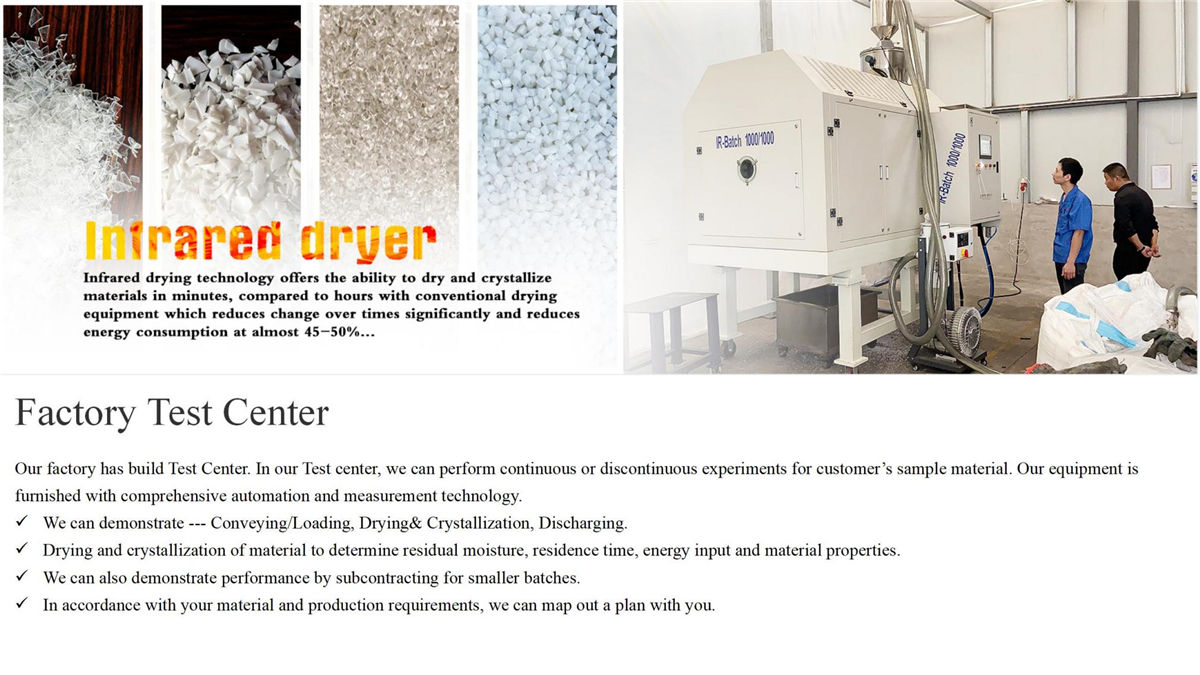 >> Supply Experienced engineer to your factory to help installation and material test running
>> Adopt aviation plug, no need to connect the electrical wire while the customer get the machine in his factory. To simplify the installation step
>> Supply the operation video for installation and running guide
>>Support on line service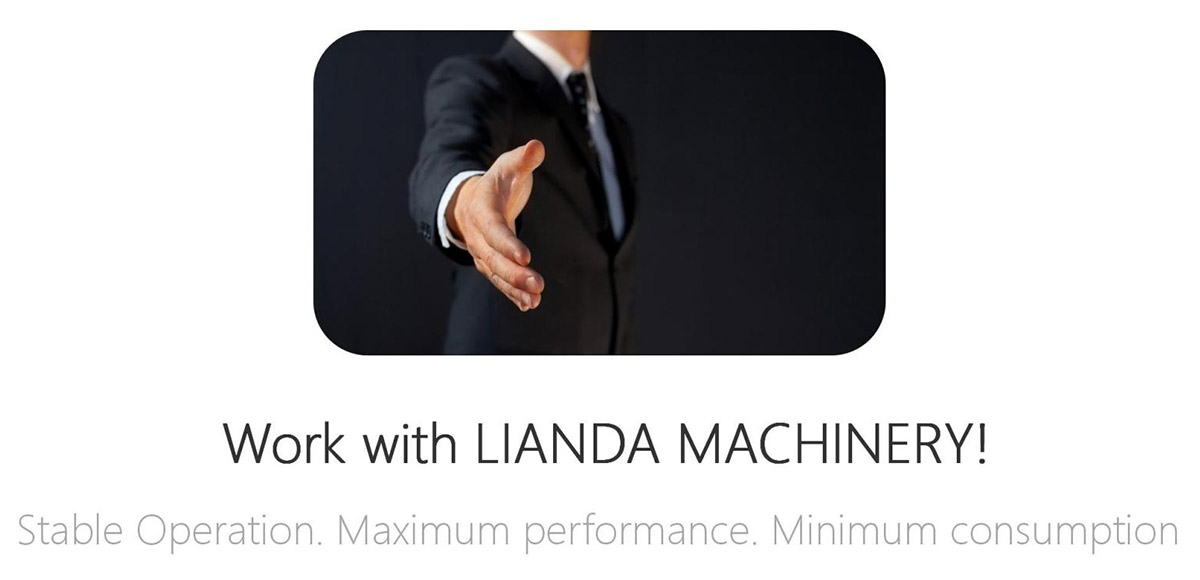 ---
Previous:
Polyester masterbatch crystallizer dryer
Next:
PETG Dryer
---